Mangroves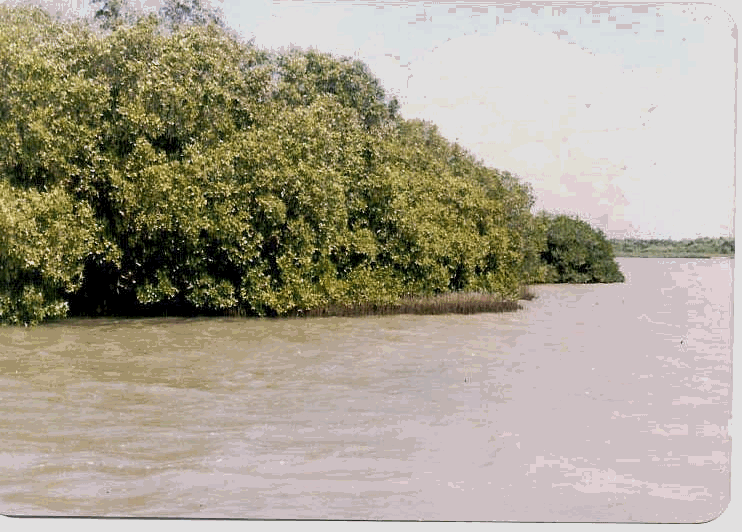 What is mangroves?

Mangroves are typical, tropical specialized trees growing in saline and brackish water system.
Mangroves are highly productive
Economical
Protect shoreline from erosion, cyclone
and tsunami waves
Major threats to mangroves are
Deforestation
A recent estimate put the value of mangrove forest at US $11,819 /ha/year ­ over 10 times the worth of a rice paddy that may replace there unique and productive forest. Plants are cut and used as firewood and foliage as fodder for the cattle.
Reclamation
Many great cities are located near coastal wetlands (Mangroves) with not only provide them water but are also receptacles of the sewage generated by them. Urban development goes hand in hand with agricultural reclamation and in many cases swamps, floodplains are first reclaimed for agriculture and, in the following years converted to urban use. Some suitable areas are reclaimed and deloped into fish farm and salt farm.
Salt Pan formation
On the east coast of Tamilnadu e.g., Marakkanam, Kanthadu, once mangrove forest have been converted into salt pan
Infection and Lately pollution
Untreated or semi treated sewage discharged into estuary increases BOD load and causes a drop in the dissolved oxygen levels. This leads to fish kills. Turbidity of the water also increases due to the organic particulate materials and a noxious smell emitted from the polluted waters. Due to enrichment of nutrients green algae are formed over the water surface. Light penetration and oxygen diffusion is lately reduce the aquatic life. With industrialization, the threat from industrial effluent is assuming alarming proportions. Weeds block waterways and irrigation canals increases siltation rates and reduce biological diversity.
Location
In India there are 7,00,000ha of area covered by mangroves along the estuaries and major deltas. Indian mangroves comprised of more than 60 species belonging to 41 genera and 29 different families.

In Tamilnadu, the mangrove formation occurs in the Pennar and Cauvery delta and further south in Tuticorin and Rameswaram areas. The Cauvery delta has some very good mangrove forests but these are endangered by encroachments of land and collection of timber, fodder and fuel by the neighboring population. Cattle also have been causing extensive damage to the mangroves..

The mangrove forests are being protected by the State Forest Department as reserve forests. The total area now is about 70 sq km of which about 10 sq km are covered by good forests. The good forests are in Muthupet, Chatram, Puthupatinam and Talanayar. The good mangroves of Point Calimere are in Talanayar and Chatram. Apart from the current forests areas the mangroves also existed in other areas, most of which are degraded now. All these together would constitute 150 sq km of mangrove areas. The other areas are having open blank spaces in between the forests. These open spaces have been caused by human interference.

In Marakkanam area, species commonly found are Suaeda monical over a stretch of 125km. In Arasalar estuary in Karaikal and in Point Calimere, Excoecaria agallocha are found over extensive areas. In Tuticorin, Suaeda, Salicornia, Ceriops tagal and stunted Avicennia occur. In all the mangroves in Tamilnadu, Rhizophora conjugata, Avicennia alba. Ceriops tagal and Excoecaria agallocha occur. There are 20 woody species of mangroves in this area. These together would constitute 150 sq km of mangrove areas. The islands in then Gulf of Manner have also some mangroves.

The mangroves of Tamil Nadu resemble those of Gujarat. The salt marshes of Marakkanam, herbaceous and thicket mangroves of Tuticorin, Pamban, Rameswaram and islands of the Gulf of manner resemble those in the coast of Jamnagar and Navlakhi and in then islands of the Gulf of the Kutch.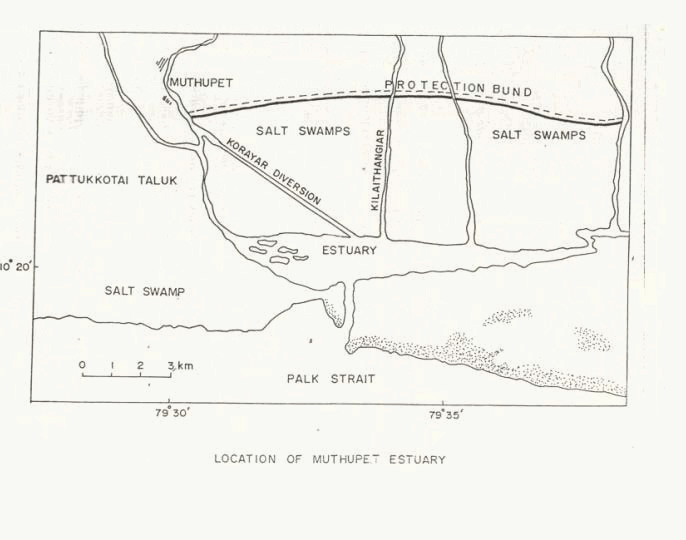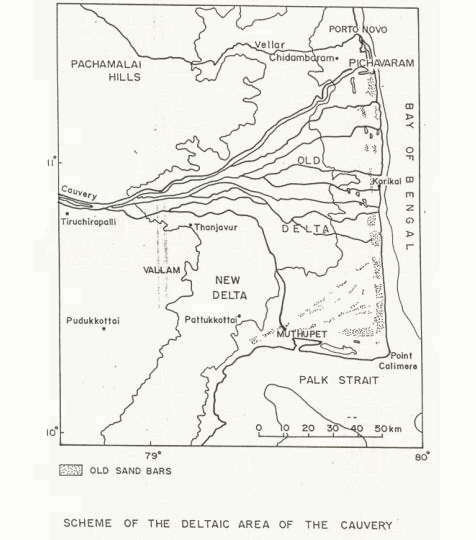 Mangroves (Reserve Forest) in Muthupet (Lat 10o, 46 N; Long 79o, 51 E) on the Coromandel coast of India. Mangroves forest on the coastal belt of Cauvery Delta (Fig. A) and Location of Muthupet Estuary (Fig. B).
Viviparous Germination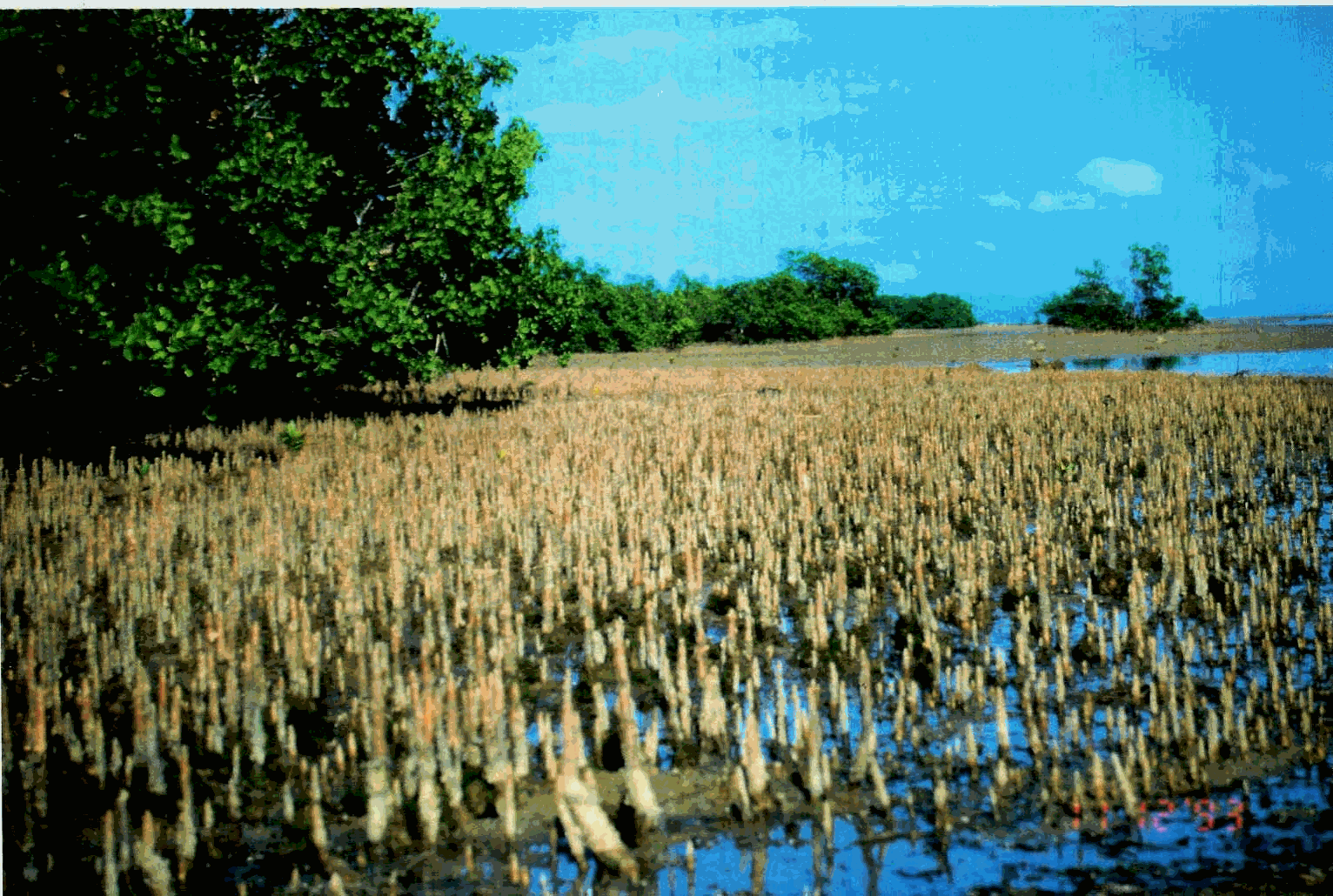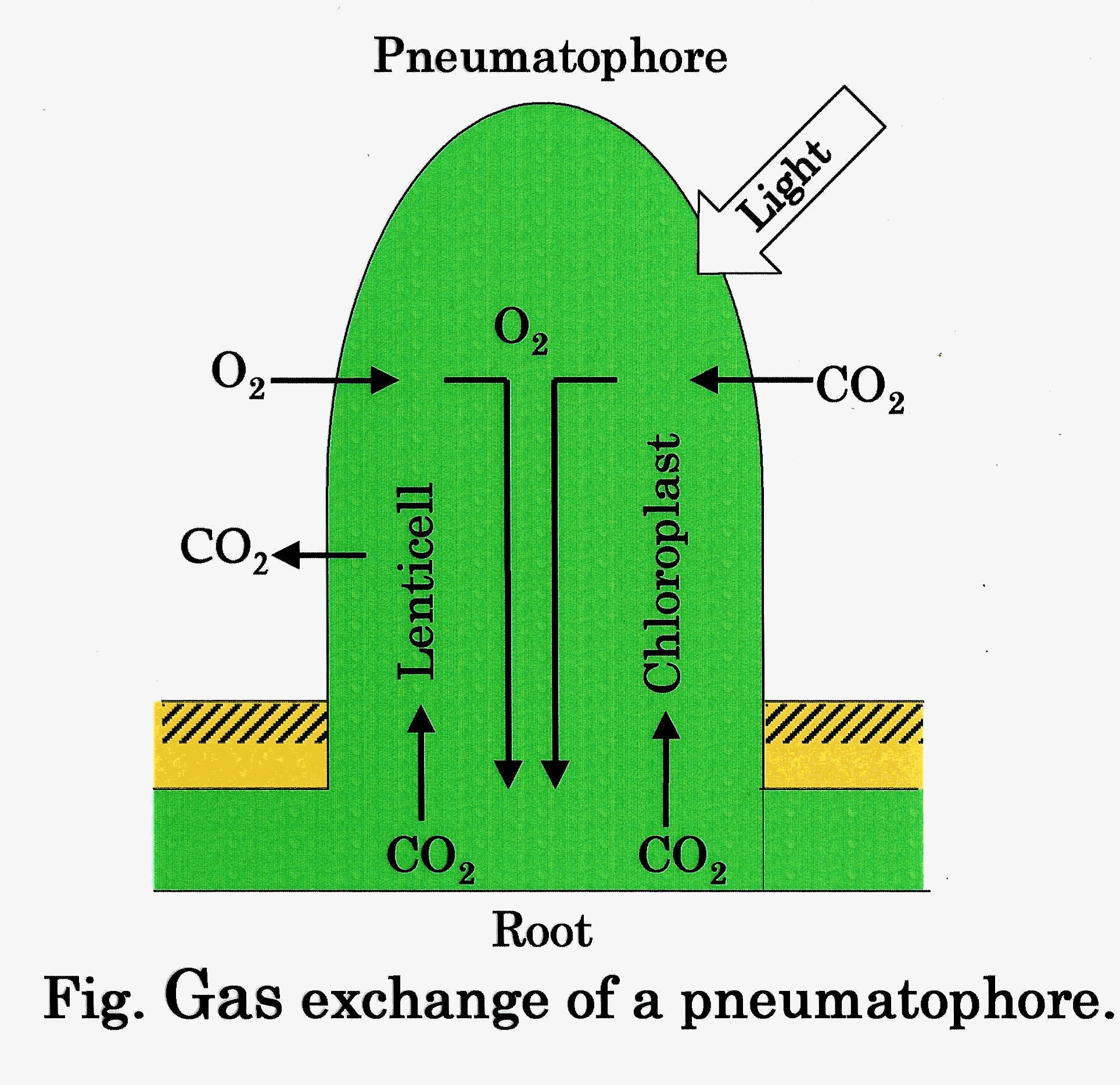 Pneumatophores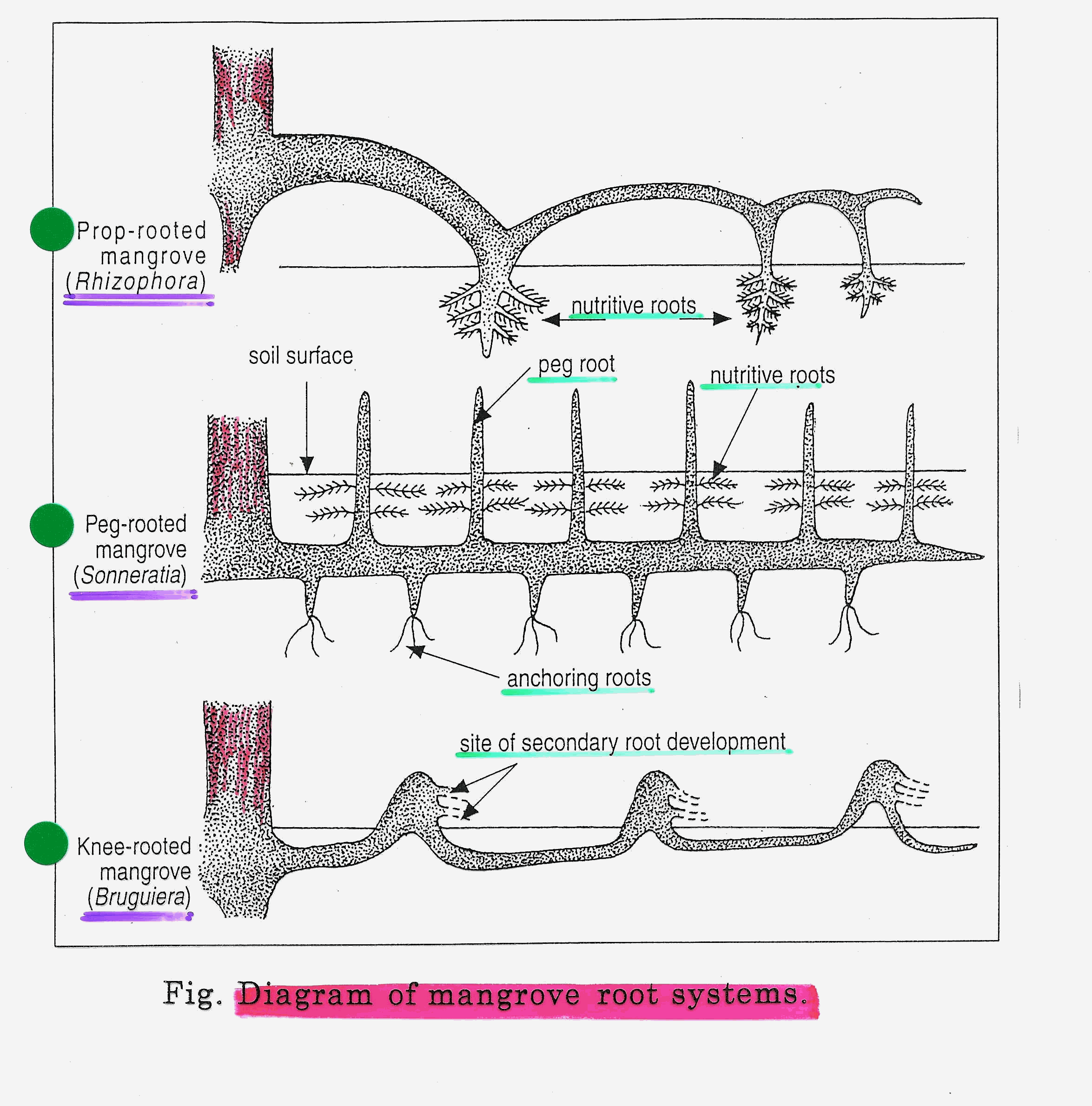 Salt glands
Salt Tolerance mechanisms of Mangrove plants
Salt absorption control of root
Transportation control of salt to related tissues (Ex. Photosynthesis organ)
Excess absorbed salt re-transports to root and excretes
Storage and excretion of salt at salt hair
Preferential excretion of salt from salt gland
Accumulation of excess salt in vacuole
Biosynthesis stimulation of osmo-regulation substances.
Mangroves are used for various purposes
Fire Wood
Timber
Charcoal
Fodder
Paper and Pulp
Tannin extraction and other by products
Mangroves swamps are rich in larvae of economically important fishes, prawns, crabs and bivalves
Mangroves are suitable areas for feeding, breeding and nursery grounds of many aquatic organism and hence importance for aqua culture.
Where Mangroves grow ?
Inter tidal regions along the estuaries, back waters, islands, and other protected areas
The prefer soft clay mud for their growth (Slide on mud)
Show different salinity tolerant limits (diagram on salinity)
The inundation of the mangrove region during floods or tides is also one of the important factors
Which Species to Grow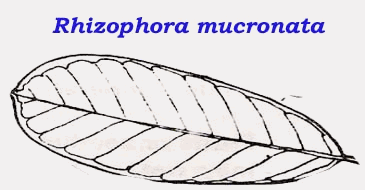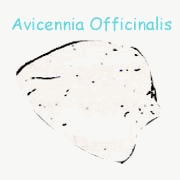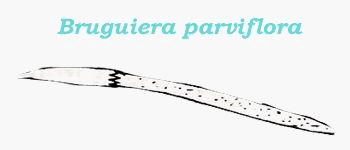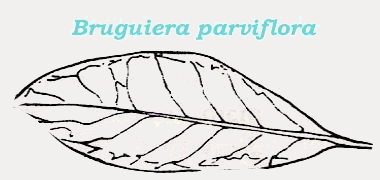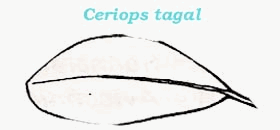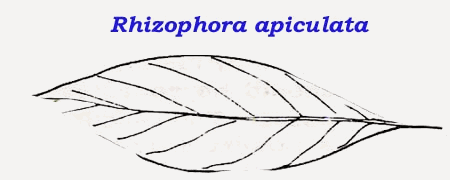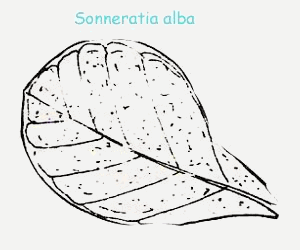 Easily Available and their seedlings (Propagules) or seeds are also available in considerable quantity in mangrove forest
Species Identification
Collection of Seeds and Seedlings
Available throughout the year
Spacing between two plants about 1.3m to 1.5m
Which Seedlings
Rhizophoracious trees have a podlike structure
Avicennia fruits are triangular in shape
Sonneratia is Globular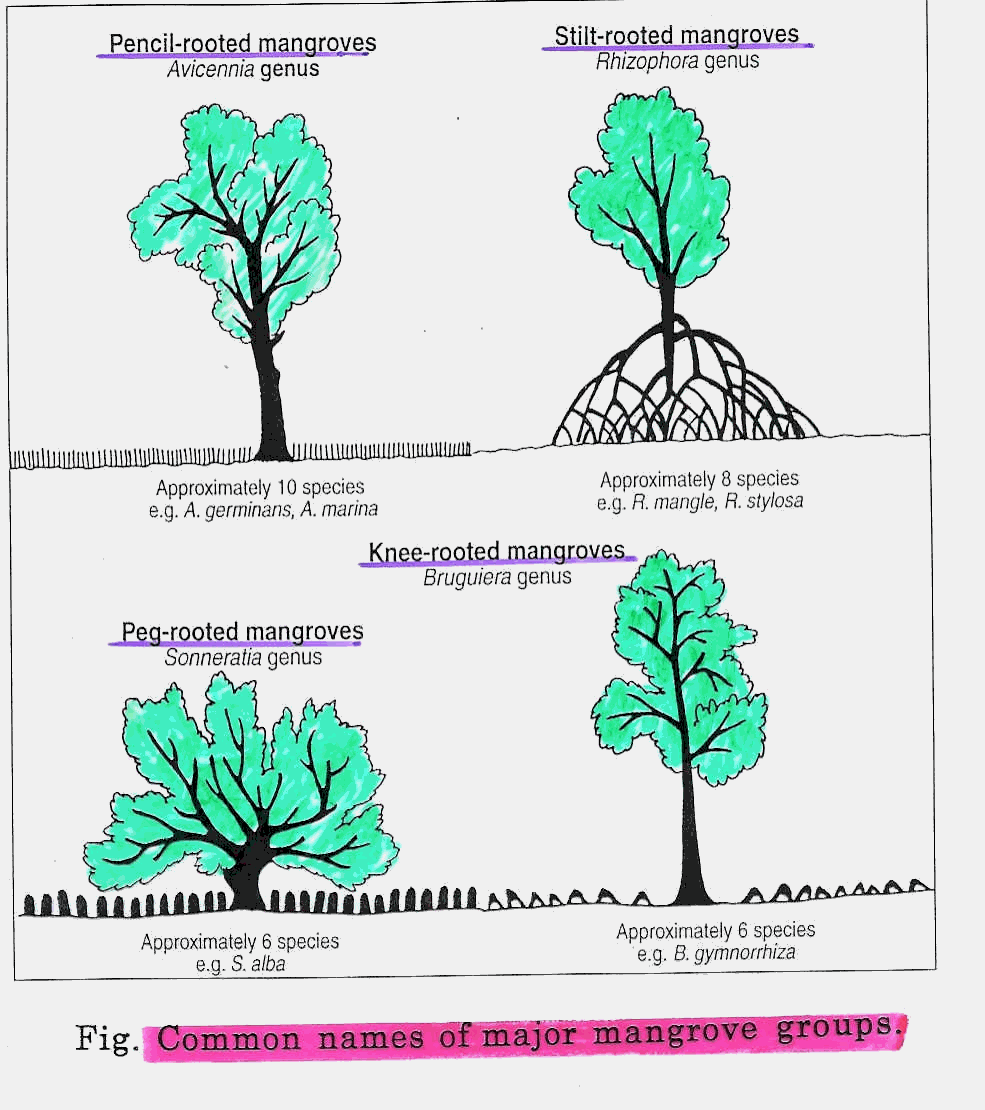 How to Nursery
Raising Seedlings in Nursery
Nursery Technique can be develop in the upper part of the intertidal region where seedlings can be grown in polythene bags supported with bamboos

In Polythene bags in nursery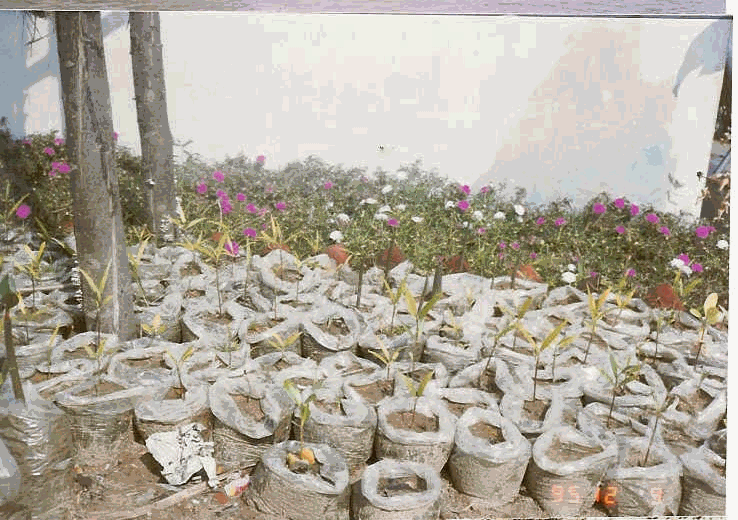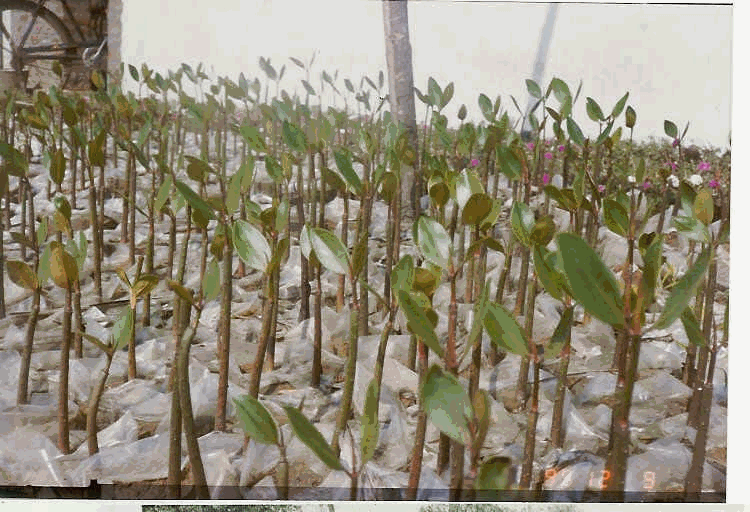 Avicennia alba Rhizophora mucronata in nursery
The concept of Forestry Extension is new in our country, hence the extension methodology is also relatively less known. The value of tree planting is known to the common man but the fact that tree planting could be integrated as a form of a viable land management option within the overall farm production system, is not well known.
How to Plant
Directive Planting Open areas
Treatment Specification
Species

Propagation by

Avicennia Spp.

Ercoecaria agallocha

Ceriops Spp.

Rhizophora Spp.

BruguieraSpp.

Nypa fruticans

Aegiceras corniculatum

Phoenix paludosa

Sonneratia SPP.

Xylocarpus Spp.

Heretiera formes

Direct sowing/dibbling

- do -

- do -

Transplanting by naked root seedling

-do-

-do-

Transplanting by naked root seedling

-do-

Transplanting of potted seedling

-do-

-do-
Where to Plant
Near the estuary or sea where sea water or estuarine water is available.

Seedlings to be allowed to grow from 6 to 1 year period and can be transferred to the site.
Any poisonous plants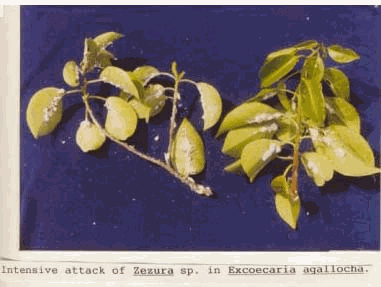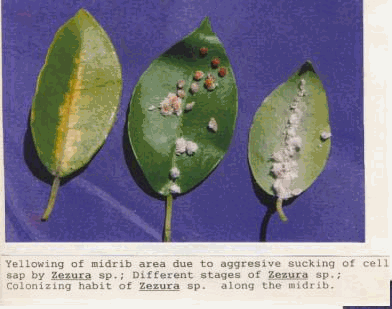 Survival rate
90 to 95 % survival.
Avoid Polluted areas for planting.
Sewage pollution or low level nontoxic pollutants may not have harmful effect on mangrove plant.
Mangrove trees can reduce pollution by absorbing certain chemicals.
Very high Sediment load with fast current may also sometime pose little problem.
Tidal mangroves
Tidal mangroves are the plant groups found in the tidal flats meandering with a large number of creeks and channels. Trees and shrubs are abundant in this group. Avicennia marina is a dominant species. However, Rhizophora sp., Bruguiera sp., Sonneratia sp., etc, which comes under this group are naturally absent.
Prohyline mangroves
Vegetation found in the fringes of creeks and channels, where the water salinity is comparatively low, fall under this group, which is represented by Excoecaria agallocha, Aegiceras corniculatum Acanthus ilicifolius, Clerodendrum inerme, Derris spp etc.
Euhyline mangroves
This type is found on the mudflats indegraded mangroves areas. The dominant species are Suaeda maritime, S.monoica, S.nudiflora, Salicornia brachiata, Sesuvium portulacastrum, Anthrocnemum sp., Cressa critica etc.

Lugo and Snedaker (1974) classified mangrove system based on forest physiogonomy as
Over wash mangrove forests
Fringe Mangrove forest
Riverine mangrove forests
Basin mangrove forests
Hammock forests and
Shrub or dwarf forests.
According to their classification Muthupet mangroves fall under the "Fringe mangrove forest" type, hence the zonation pattern is typical and the mangroves are defines along the shorelines whose elevation is higher than mean high tide.
List of Mangroves and their associates of Muthupet
How Mangroves are Infected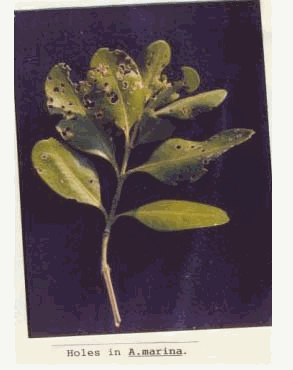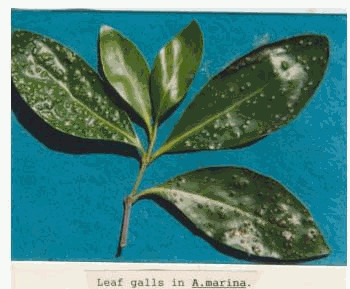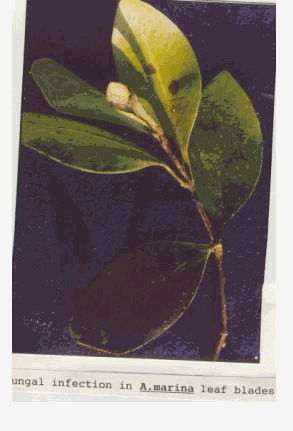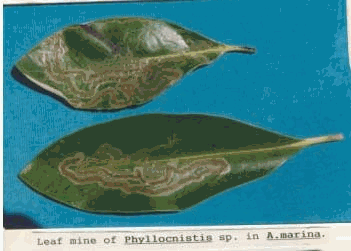 Diseases of some mangrove plants:
From the records it is evident that mangrove plant diseases have been reported form all of Asia, Europe, Australia, America and Africa. Their distribution generally show in India, Japan, Italy, France and Samoa on Pandanus, in India and Bangladesh on Heritiera, in Australia, USA and India on Avicennia, in Malay, USA and Gambia on Rhyzophora, in India and Italy on Acanthus, in Australia on Aegiceras etc.

The results of present study and survey of literature on twenty one species of mangrove plants under six genera namely Heritiera, Rhizophora, Aegiceras, Phoenix, Pandanus, and Acanthus relvealed that these mangrove plants suffer from number of diseases (Table-1) of which some are killing. Most of the diseases are caused by fungal pathogens and only one or two bacterial and viral pathogens are recorded. The diseases include leaf spots, blights, necrosis, petiole canker, rusts, sooty mould, damping off, gall, die back, foliage and blossom blight, bleeding disease, seed rot, rapid decline, lethal yellowing, powdery mildews, mosaic and leaf deformity.

The major pathogens involved in causing the diseases are Pythium and Alternaria Avicennia; Botryosphaeria or Heritiera: Cercospora, Cylindrocarpon and Fusarium on Rhizophora: Graphiola and Pestalotia on Phoenix Physalospora and Botrydiplodia on Pandanus (Table-2). Besides different other pathogens like Phytophthora on Avicennia; Capillataspora and Anthostomella on Rhizophora; Setella on Aegiceras, Stigmina, Graphiola, MLO, etc, on Phoenix; Erwinia, Haplosparella, Annellolacinia, Virus etc. on Pandanus and CMV, Cicinobolus, Septoria etc. on Acanthus are also on record. In Sundarbans die back of Avicennia and Heritiera, leaf sport of Rhizophora, bleeding and decline of Phoenix, leaf blight and fruit rot of Pandanus and powdery mildews of Acanthus are destructive and have achieved major status (Table-3).
Muthupet Estuary
Muthupet Fauna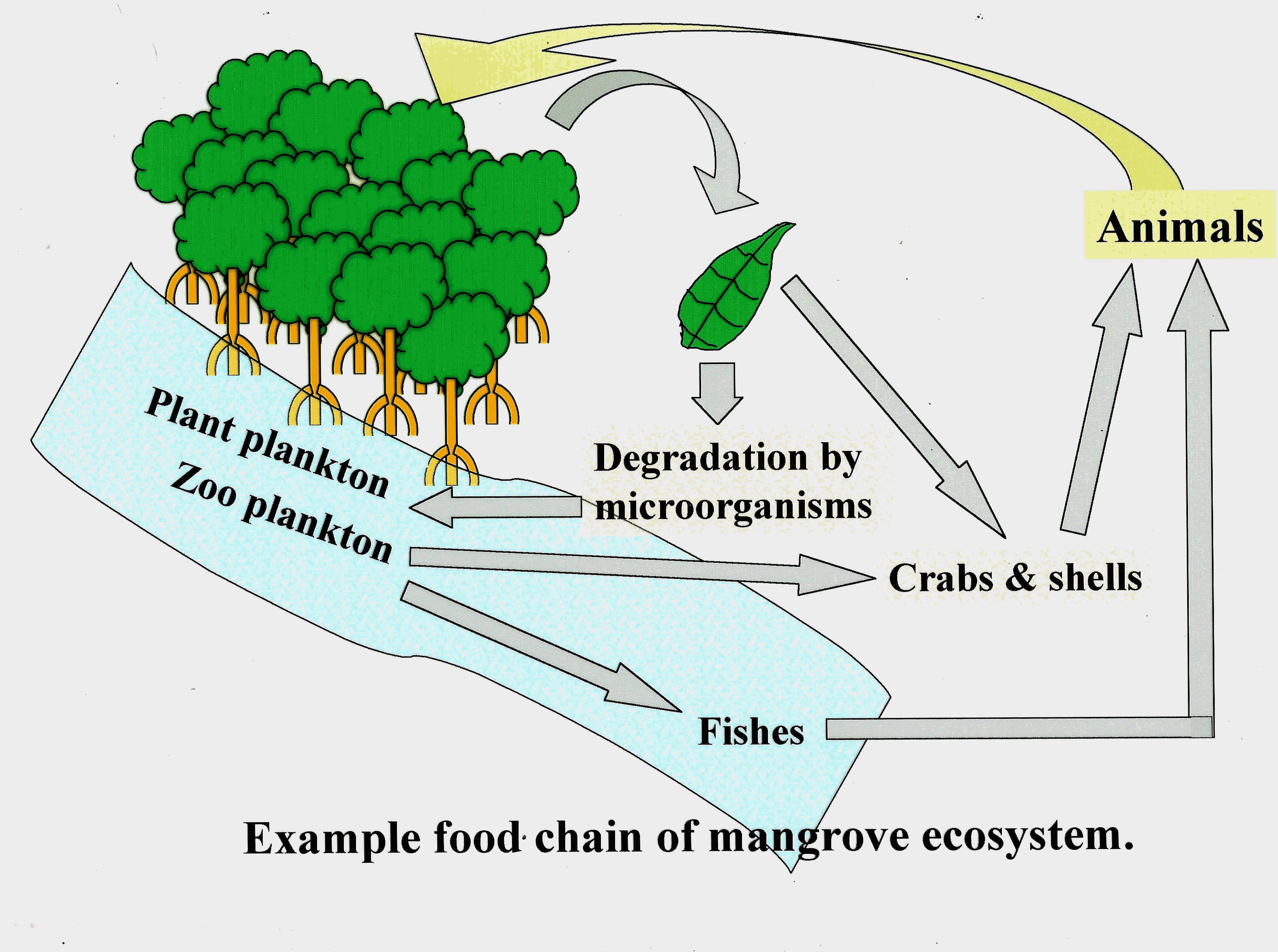 A specialized ecosystem in which vegetation plays an important role by trapping the sediment and also by developing detritus- based food chain.
Biodiversity in the Muthupet mangrove forest, Tamilnadu
The mangroves of Muthupet in Tamilnadu are integral environment of forest and fisheries. These mangroves stabilize coastal environment, prevent soil erosion and sea encroachment. Increased pressure like indiscriminate wood felling, over grazing land conversion and siltation on the natural resources of Muthupet has led mangroves being exploited beyond their sustainable potential. Continuous siltation has caused land emergence and microdelta formations.

Systematic floristic survey has been undertaken at Muthupet in the area with the stretch of 68.03 sq.km comprising thick mangrove forest and lagoon. The vegetation comes under the littoral and tidal swamp forest category. Plants belonging to 34 families, 53 genera and 61, species were identified. Among the 61 spices, 11 are trees, 13 shrubs, 31 herbs, 2 climbers and 1 parasite. Out of these, 10 spices were mangroves and the rest associates. The dominant families represented are Fabaceae (6), cyperaceae (6) and Euphorbiaceae (4). The other groups of vascular plants associated with mangroves are 6 species of seagrasses, 10 species of seaweeds, and 4 fresh water hydrophytes. Rhizophora apiculata and R. mucronata have been reintroduced in the crecks and canals of Muthupet. Dominance and monogeneric formation of Avicennia marina is unique in the floral diversity of Muthupet.

It harbors the largest population of insects (103sp) crustaceans, (5 species) mollusks, (7 sp) and icthyofauna (73 sp). The visit and mass nesting of a large variety of migratory birds and resident water birds during winter season adds to the diversity of the wild life. The importance of conservation of biodiversity is discussed.

Studies on the avian fauna of Muthupet mangrove forests (Lat 100 460 , long 79.510E) showed 160 species of birds that use mangroves for breeding, nesting roosting and other activities. Based on similarities in methods of procuring food, they were classified into six groups as wading birds (16) probing shore birds (31) Floating and diving water birds(15) aerially searching birds (23) birds of prey (11) and arboreal birds (64) .

Altogether 45 families were identified. The maximum species were represented by the families Charadridae (22) Anatidae (16) Muscicapidae (14) Laridae (11) and Ardeidae (9). Following the onset of monsoon, the winter mirgrants and visitors dominate the bird population. These roost in the canopy of dense Avicennia stands, creating a scenario of immaculate cloud resting on the canopy till he onset of summer. Conversion of tidal swamps may severely reduce the bird population and the concentration of migratory and winter visitors.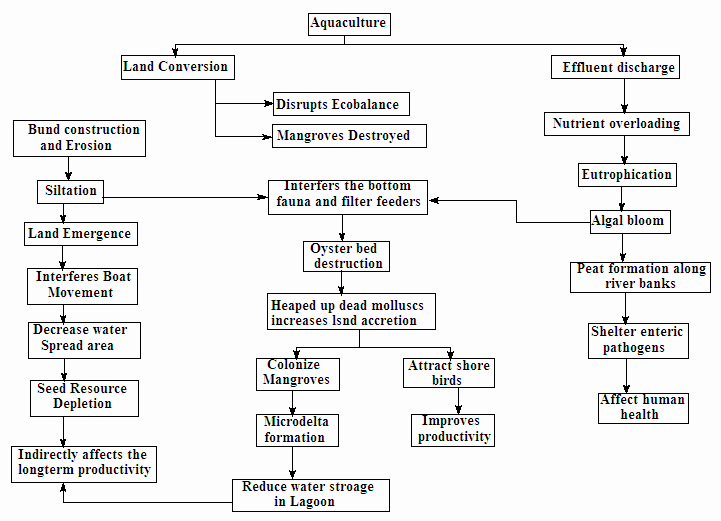 Fishes




Insects

Mangrove insect fauna of Muthupet click here to view
(If you dont have a Acrobat Reader :Download Acrobat reader)